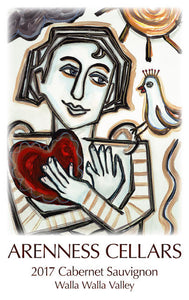 SOLD OUT.  THANK YOU! 
AWARDS 

Gold Medal -- Sip Magazine 9th Annual Best of the Northwest, Fall 2020 
Silver Medal -- 2020 Sunset Magazine International Wine Competition

Wine rating of Excellent -- Great Northwest Wines.  Read the full review here:  
https://greatnorthwestwine.com/2020/10/24/arenness-cellars-2017-cabernet-sauvignon-walla-walla-valley-39/
PANEL TASTING NOTES FOR OUR INAUGURAL RELEASE WINE

With its old school TA (i.e., more), this wine possesses a base of acidity that allows for extended aging in the long term.  In the near term, it begs to be enjoyed with food.  The wine is dark crimson in color with a pretty hue of purple at its core.  On the nose an alluring mix of oak spice, menthol, herbs, and leather lead to subtle aromas of warm black current jam.  On the palate this medium to full-bodied cabernet sauvignon presents a wonderful balance of graceful tannins, bright acidity, and dried red fruit.  Although dark fruit aromas and flavors sit tight for now, we expect these components will unfurl to the patient wine collector.  Tannins build gradually during a long, nuanced finish.  With proper cellaring this wine should age well and continue to improve over the next 7-10 years.  
TECH NOTES
The 2017 vintage started out as a cool, wet winter, with significantly above average snowfall in eastern Washington. The cool trend continued during spring and bud break was behind historical averages. Bloom was also slightly delayed. A cooler spring gave way to warm summer months and an average fall season.  In the second half of September, temperatures cooled considerably, which delayed ripening.  This allowed extended hang time without the threat of increased sugar accumulation – particularly helpful to Cabernet Sauvignon.   As a result, sugars were slightly down and acid levels were up offering a high quality harvest with potential for very age-worthy wines.  Wildfires occurred throughout the Pacific Northwest late in the growing season, but there is no evidence of smoke taint in our wine.                                                               

The fruit for our 2017 Cabernet Sauvignon comes primarily from Golden Ridge Vineyard.  First planted in 1998, the vineyard sits in the northeast portion of Walla Walla.  The vineyard is meticulously farmed by Michael and Cindy Rasch.
Varietal Composition
90% Cabernet Sauvignon (Clone 8), 6% Malbec, 4% Merlot
Winemaking
Harvested on October 18th, the fruit was promptly destemmed into fermenter.  Primary fermentation was complete 13 days later.  After pressing and settling, the wine was racked to barrel where malolactic fermentation occurred.  The wine aged for 22 months in French oak barrels, 50% of which were new, before bottling in October 2019.  The wine was not fined or filtered.
Cooperage
Sylvain, Darnajou
Numbers
Alcohol 14%, TA 6.3 g/L, VA 0.55 g/L