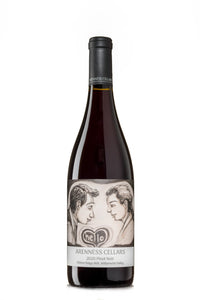 SOLD OUT.  THANK YOU!!
Our first Pinot Noir comes from the 20000 Vines Vineyard owned by Robert and Be Davis.  This small vineyard was planted in the fall of 2014 and sits at an elevation of approximately 600 feet in the Ribbon Ridge AVA of Oregon's Willamette Valley.  The vineyard is just one component of the Davises' spectacular property which also includes a large vegetable garden, 150+ fruit trees (including olives, apples, and cherries), hay grass, and forest. 
The wine is a field blend of the classic French clones Pommard (48%), 115 (25%), Wädenswil (15%), and 777 (12%). To enhance the overall composition of the wine from this young vineyard, a very small amount of Syrah was added to the blend. Although the vineyard slumbered through days of smoke, we have yet to detect smoke taint aromatically or on the palate.
REVIEWS
In the July 30, 2022 post on his website, paulgwine.com, Paul Gregutt named our Pinot Noir the value wine of the week and wrote:

"I reviewed the Arenness wines a few weeks back but just got to taste this outstanding Pinot Noir. It recalls some of my favorite Patty Green wines from the Ribbon Ridge AVA, with big, juicy fruit flavors that mingle cherries and berries. The acids are proportionate and the tannins very well- managed, yet for the moment it's the fruit that shines the brightest, with touches of blood orange, sea salt chocolate and coffee grounds as lighter notes. Interesting fact – the final blend includes two percent Syrah. (Note: this is still available for purchase as this is being posted but don't wait long.)"
TECHNICAL NOTES
Growing Season - A mild and dry winter in 2019-20 was followed by a dry growing season.  The spring was relatively cool throughout Oregon leading to a fruit set that was down 30% or more.  Heat stress during the summer was moderate, leading into what looked like a decent September weather-wise.  Everything changed as a result of a Labor Day extreme wind event that was followed by catastrophic fires and smoke.  Despite the impact of these events, growers across the state reported a harvest that presented very good quality fruit at moderate to substantially lower yields. (Summarized from the Oregon Wine Board's 2020 Harvest Report.) 
Composition - 98% Pinot Noir, 2% Syrah

Panel Tasting Notes - In the glass, this Pinot Noir presents rich hues of garnet and ruby with a violet edge. Plum, black cherry, orange peel, and fresh herbs offer a complex array of aromas.  On the palate, the wine is bright with lively acidity. Raspberry, watermelon, dried cran-cherry, black cherry, savory enoki mushroom, and black tea combine with soft tannins and glycerol to create a lush mouthfeel that lingers beautifully.  The wine is drinking well now, and it has the gumption to stand up to grilled meats and vegetables.  With proper cellaring, it will continue to develop complexity over the next 5-7 years.
Winemaking - Pinot noir fruit was harvested on October 4th and inoculated with W15 yeast on October 5th.  During 10 days of primary fermentation the must was punched down twice daily.  The must was then pressed and wine racked to tote.  After settling, the wine was racked to barrel where malolactic fermentation occurred.  The wine aged for 14 months in French oak and was racked two times prior to bottling in December 2021.  The wine was not fined or filtered.
Cooperage - DAMY (Once used)

Numbers - Alcohol 13.6%, pH 3.56, VA 0.67 g/L