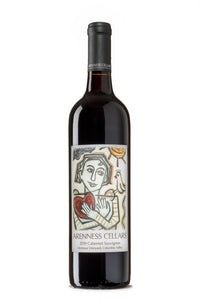 Receive a 20% discount automatically with the purchase of a case (12 bottles).
Receive a 10% discount when you purchase 6-11 bottles by entering the discount code BUY 6 at checkout.
This new release Cabernet Sauvignon comes from fruit grown in Block 18 of Dionysus Vineyard in the Columbia Valley AVA.  The site sits majestically on slopes overlooking the Columbia River, and wine grapes were first planted here in 1973.  Since then, Cabernet Sauvignon has become the flagship variety of the vineyard.  Subsequent to our bottling and labeling of the wine this particular area was designated as the White Bluffs AVA, a new sub-region of the larger Columbia Valley AVA.
AWARDS
92 Points & a rating of "Outstanding!" from Great Northwest Wine
On December 5, 2022, the tasting panel wrote:
"There are few uber-ultra boutique commercial endeavors in the Pacific Northwest that focus on Columbia Valley fruit. Portland-based winemaker Robert Bailey's project, which he limits to one or two tiny lots each vintage, continues to earn our attention. Here, he doted on two barrels of Clone 8 Cab off historic Sagemoor's Dionysus Vineyard, specifically Block 18. Although it's in the recently established White Bluffs appellation, portions of Sagemoor will turn 50 years old in 2023. Bailey pulled his grapes on Oct. 6 and devoted 22 months to French oak — one barrel new Quintessence and the other a neutral Darnajou. He bottled this unfined and unfiltered in Walla Walla, and the results exhibit finesse rather than a blustery fruit bomb. While it does lead with black cherry, blackberry and cola, there are complex underpinnings of moist earth, leather and pencil shavings. The craftsmanship makes for [an] easy drink backed by pliable tannins, racy raspberry acidity and a fleck of minerality. Bailey has sent our panels four of his first efforts, starting with his 2017 Cab, and this is the third bottling to receive our top rating. (His suggested pairing is this recipe for Extra Dark Chocolate Cocoa Nib Cookies with Madrona Smoked Sea Salt.) Next up is his release of Cabernet Sauvignon from the 2020 vintage featuring historic Klipsun Vineyard on Red Mountain.
Rating: Outstanding! — 92 points"
"For the Cellar" selection from Paul Gregutt, www.paulgwine.com, June 11, 2022
An author and former principal reviewer of Pacific Northwest wines for Wine Enthusiast magazine, Paul writes: 
"Good grip, texture and weight, with a mix of blackberry, black cherry and cassis fruit flavors. There's a nice streak of cigar box, cracked walnuts, a hint of char, espresso and black rock, all refined and balanced. This is a fine expression of Washington Cabernet from an iconic vineyard. The blend includes 5% Golden Ridge (Walla Walla) Merlot. 92/100" 
Paul also reviewed our 2017 and 2018 vintages of cabernet sauvignon and wrote a brief story about Arenness Cellars.  Check it out at:  https://www.paulgwine.com/lets-discuss/arenness-amp-entiat-northwest-wineries-finding-new-pathways-to-excellence
Silver Medal -- Los Angeles Invitational Wine Challenge sponsored by The Los Angeles Times, March 2022

TECHNICAL NOTES
Growing Season - The 2019 growing season was an unusual one. A mostly warm winter in eastern Washington gave way to late winter weather that left snow in vineyards well into March.  This condition resulted in lower soil temperatures that delayed bud break and bloom. Summer temperatures were cooler and significantly more even than in recent years, with a notable lack of heat spikes. Temperatures cooled considerably after the first week of September and remained cooler throughout the month.  A minor frost event at the end of September was followed by a series of larger, statewide frosts and freezes in mid-October that left many growers and wineries scrambling to pull fruit from the vines. While some consider 2019 to be a cool vintage, it is only cool relative to recent years.  Despite challenges presented by the freezes, the general view about the vintage is that quality is high with wines showing freshness, elegance, and intensity.  (Summarized from reports produced by the Washington State Wine Commission and the Washington Wine Report.)               
Composition - 95% Cabernet Sauvignon (Clone 8), 5% Merlot (Golden Ridge Vineyard, Walla Walla Valley)
Panel Tasting Notes - The 2019 cabernet sauvignon from Dionysus Vineyard presents a visually rich purple color that leaks to violet at the edge. After a quick swirl of the glass, fruit aromas dominate followed by smokey barrel toast, cherry Pez candy, dried fig, dusty earth, and cedar. On the palate, the wine is medium-bodied and layered with a berry basket of flavors, bright acidity, superfine tannins, oak spice, and (of course) a lengthy finish. This elegant wine is ready to enjoy now, with or without food, but it will develop additional complexity in the cellar over the next five to ten years.
Winemaking - Our Dionysus cab was harvested on October 6th and inoculated with BDX yeast on October 8th.  During 15 days of primary fermentation the must was punched down twice daily.  The must was then pressed and wine racked to tote.  After settling, wine was racked to barrel where malolactic fermentation occurred.  The wine aged for 22 months in French oak barrels and was racked three times prior to bottling in August 2021.  The wine was not fined or filtered.
Cooperage - Quintessence (new), Darnajou (neutral)
Numbers - Alcohol 14.2%, pH 3.58