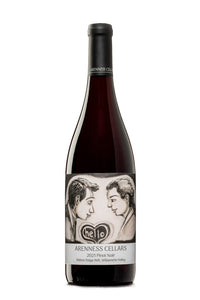 Receive a 20% discount automatically with the purchase of a case (12 bottles).
Receive a 10% discount when you purchase 6-11 bottles by entering the discount code BUY 6 at checkout.
This is our second Pinot Noir from the 20000 Vines Vineyard owned by Robert and Be Davis.  This small vineyard was planted in the fall of 2014 and sits at an elevation of approximately 600 feet in the Ribbon Ridge AVA of Oregon's Willamette Valley.  The vineyard is just one component of the Davises' spectacular property which also includes a large vegetable garden, 150+ fruit trees (including olives, apples, and cherries), hay grass, and forest.

The wine is a field blend of the classic French clones Pommard (48%), 115 (25%), Wädenswil (15%), and 777 (12%). To enhance the overall composition of the wine from this young vineyard, a tiny amount of Syrah was added to the blend.

TECHNICAL NOTES

Growing Season – The 2021 vintage in Oregon began with a dry winter and spring, followed by a mid-April frost and abnormally low temperatures in late May.  Things changed dramatically in late June when the Pacific Northwest was scorched by an unprecedented heat dome that lasted for approximately 5 days. (During this period, it was hotter in Portland, OR than in Phoenix, AZ!) Fortunately, the worst of the heat arrived during the lag phase of vine growth so there was little serious damage to the developing grapes. Once the extreme heat dissipated, the remainder of the growing season was warmer than average.  Notwithstanding the drama, yields were about average (and certainly better than in 2020) and vintners reported fruit quality as very good to excellent.  (Summarized from the Oregon Wine Board's 2021 Harvest Report.)
Composition – 99% Pinot Noir, 1% Syrah
Panel Tasting Notes – Our 2021 Pinot Noir presents a lovely hue of ruby in the glass. Aromatics are still reserved, but strawberry, candied lemon, forest floor, and a hint of cigar box are evident now.  On the palate, the wine is a well-proportioned blend of lively acidity and soft tannins with a silky mouthfeel. The long finish is sophisticated and pleasant.  This wine possesses the structure to age gracefully over the next several years.
Winemaking – Pinot noir fruit was harvested on September 24th and inoculated with W15 yeast on the same day.  During 10 days of primary fermentation the must was punched down twice daily, after which the must went through extended maceration.  The must was then pressed and wine racked to tote.  After settling, the wine was racked to barrel where malolactic fermentation occurred.  The wine aged for 15 months in neutral French oak and was racked two times prior to bottling in February 2023.  The wine was not fined or filtered.

Cooperage – DAMY (neutral)

Numbers - Alcohol 14.2%